0 Preface
With the increasing popularity of Ethernet technology applications, instrumentation, data acquisition and control equipment, and home electrical equipment in industrial fields are becoming increasingly networked, and various network-related system equipments are increasingly demanding Ethernet interface technologies. In the design of Ethernet interface circuits, many applications, especially handheld network devices, need to consider low-power design. In addition, in recent years, MulTImedia SoC has a trend toward miniaturization of packages, and the best way to reduce the number of pins is With a serial interface, the SPI interface is usually used, which requires the selection of a suitable Ethernet controller chip. Asix's Ethernet Ethernet controller AX88796C not only has low power consumption, but also supports SPI bus and Non-PCI bus, and is compatible with a variety of microprocessors.
1 Low-power Ethernet control chip AX88796C
The AX88796C is a network control chip for embedded and industrial Ethernet applications with low power consumption, low pin count, and SPI or Non-PCI interfaces that support variable I/O operating voltages. The AX88796C uses industry-standard 8/16-bit SRAM or address/data bus multiplexing interfaces to interface directly with a variety of popular or higher-order microcontrollers without the need to add any external logic. In addition, the AX88796C provides an optional SPI slave interface for microprocessors with an SPI host-side interface to simplify hardware connectivity. The AX88796C has a built-in IEEE 802.3/IEEE 802.3u-compliant 10/100M Ethernet physical layer (PHY) and media access controller (MAC) with integrated 14 KB SRAM network packet buffer for efficient storage, retrieval and retrieval of packets. modify.
The AX88796C also features advanced power management, high-performance packet transmission mode, IPv4/IPv6 packet checksum and bearer engine, IEEE 802.3x backpressure flow control, and cable auto-adaptation (HP Auto-MDIX). The AX88796C supports two operating temperature ranges, including commercial specifications from 0 to 70 °C and industrial specifications from -40 to 85 °C. The small 64-pin package size significantly reduces the required PCB space. On the application side, the driver for the AX88796C is very easy to program, and engineers can easily and quickly port it to a variety of embedded systems.
1.1 Characteristics of the AX88796C
1.1.1 High performance Non-PCI interface
The AX88796C supports 8/16 b-class SRAM host-side interfaces and is easily connected directly to common embedded MCUs such as the MCS-51 series, Renesas series and other common microprocessors.
The Slave-DMA mechanism is supported on the SRAM host side interface to reduce CPU load and support burst data read and write modes to meet high performance applications.
The I/O interface supports variable operating voltage (1.8/2.5/3.3 V) and programmable current drive capability (4/8 mA).
The AX88796C is equipped with an interrupt pin for the programmable timer.

low voltage electric appliances is a kind of equipment that can manually or automatically connect and disconnect the circuit,according to the requirements of the outside . In order to realize the circuit or non-electric object switching, control, protection, detection, transformation and adjustment. Korlen electrical appliances can provide the perfect(quality and service) products with good safety: AC Contactor,Thermal Relay,Manual Motor Startor etc.
AC contactor:
pe

KNC1-09

KNC1-12

KNC1-18

KNC1-25

KNC1-32

KNC1-40

KNC1-50

KNC1-65

KNC1-80

KNC1-95

Pick-up voltage
50/60Hz(V)

(0.85~
1.1)Us

(0.85~
1.1) Us

(0.85~
1.1)Us

(0.85~
1.1)Us

(0.85~
1.1)Us

(0.85~
1.1)Us

(0.85~
1.1)Us

(0.85
~1.1)Us

(0.85~
1.1)Us

(0.85~
1.1)Us

Release voltage
50/60Hz(v)

(0.2~
0.75)Us

(0.2~
0.75)Us

(0.2~
0.75)Us

(0.2~
0.75)Us

(0.2~
0.75)Us

(0.2~
0.75)Us

(0.2~
0.75)Us

(0.2~
0.75)Us

(0.2~
0.75)Us

(0.2~
0.75)Us

Coil power

50Hz

60Hz


Pick-up(VA)

70

70

110

110

110

200

200

200

200

200

Holding(VA)

8

8

11

11

11

20

20

20

20

20

Pick-up(VA)

80

80

115

115

115

200

200

200

200

200

Holding(VA)

8

8

11

11

11

20

20

20

20

20

Power
consumption
(W)

1.8~2.7

1.8~2.7

3~4

3~4

3~4

6~10

6~10

6~10

6~10

6~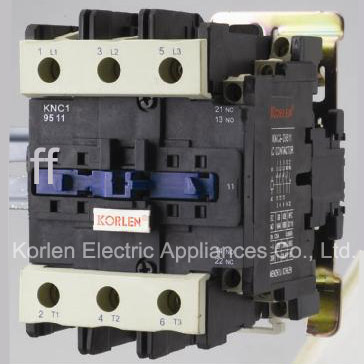 If you have any questions,please contact with us directly,welcome to visit our factory.For inquly.please send mail directly to us.
Low Voltage Transformer,Low Voltage Motors,Relay & Contactor
Wenzhou Korlen Electric Appliances Co., Ltd. , https://www.korlenelectric.com