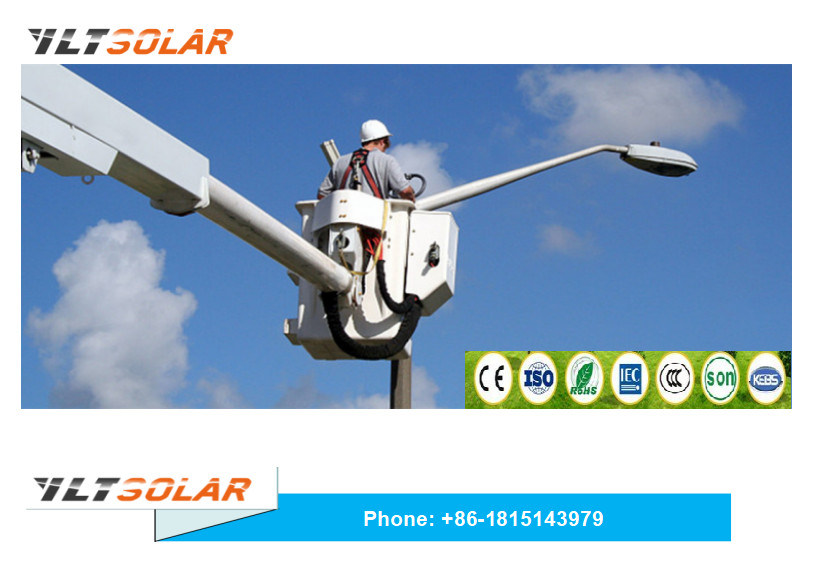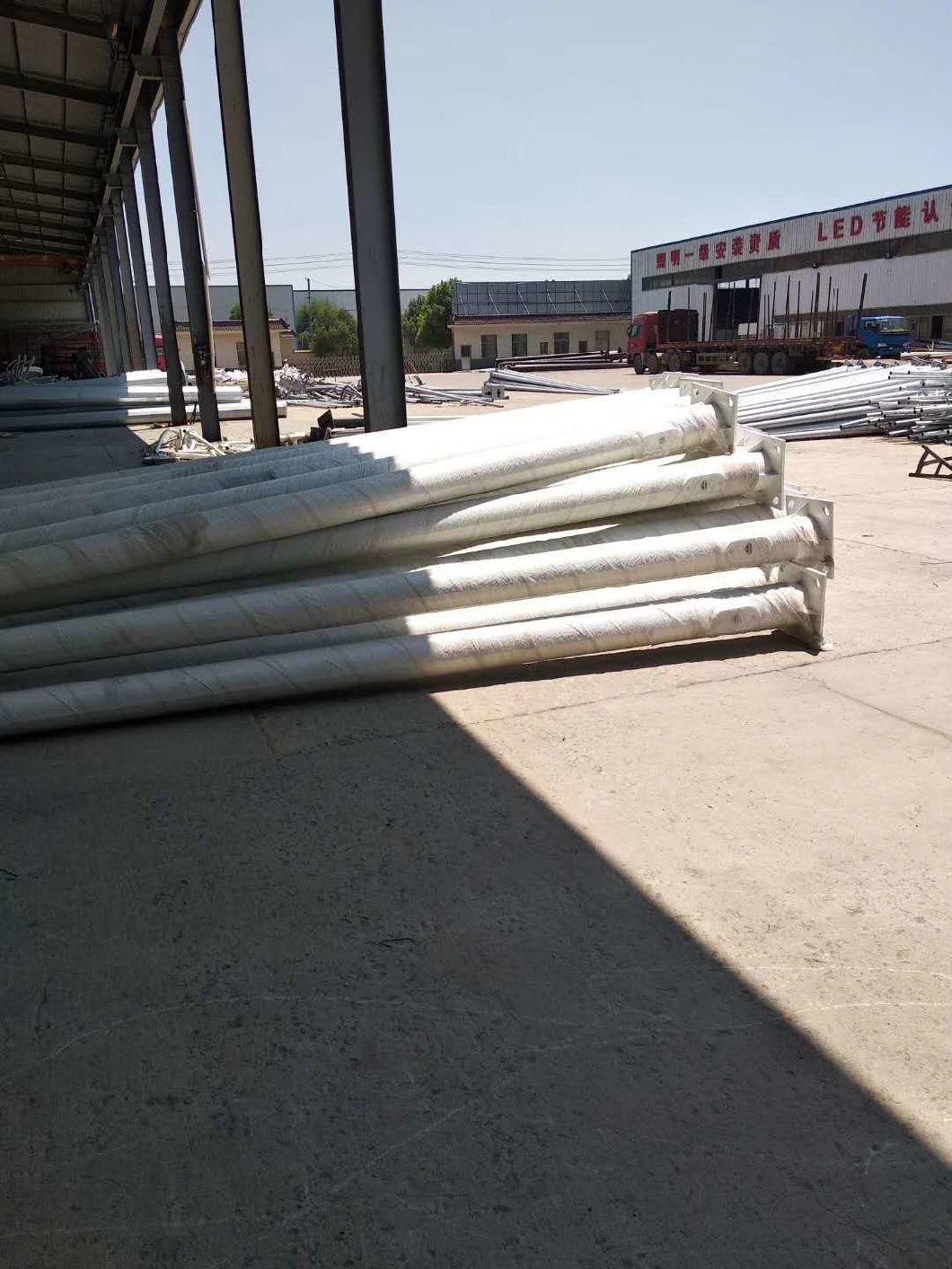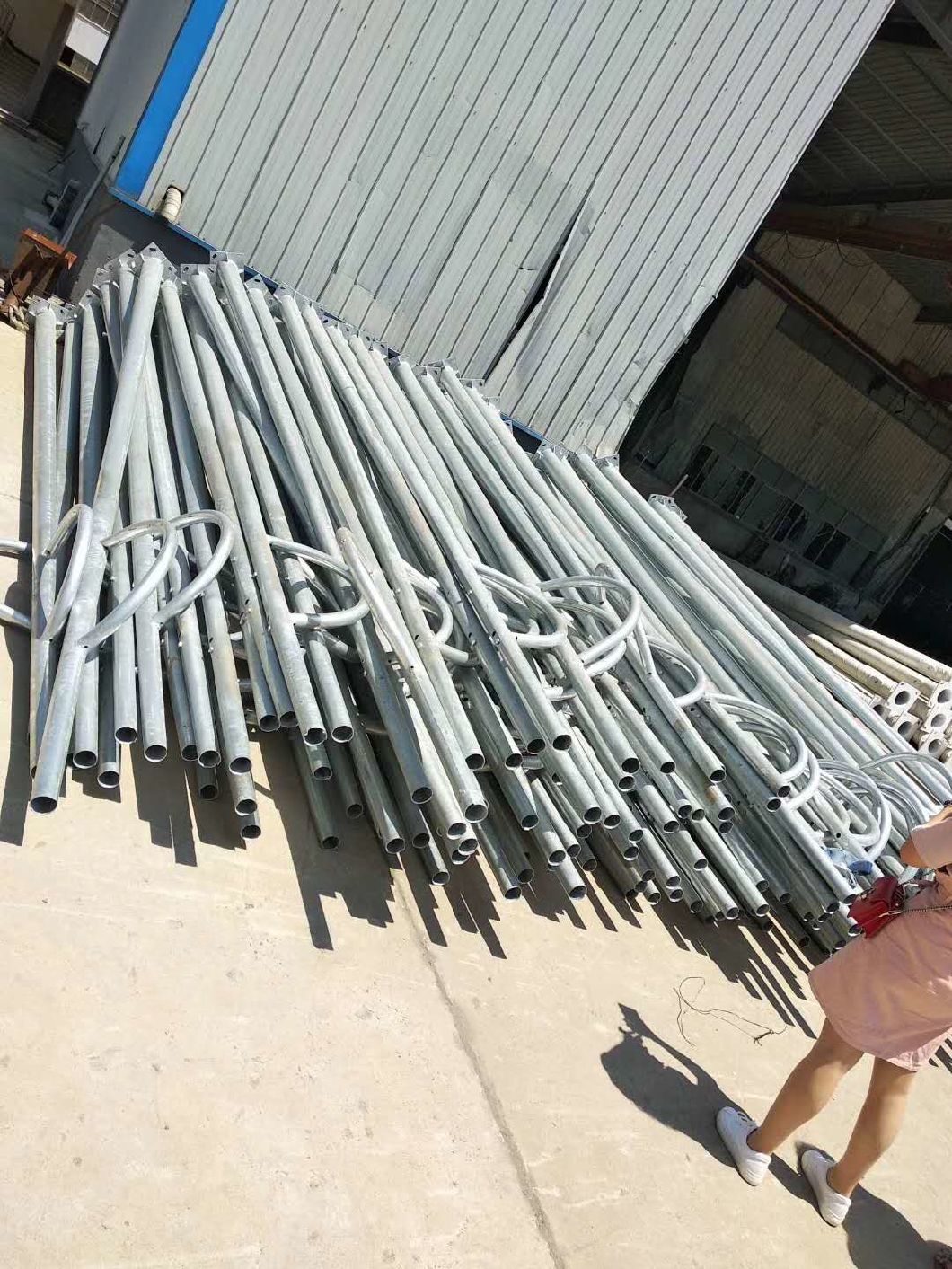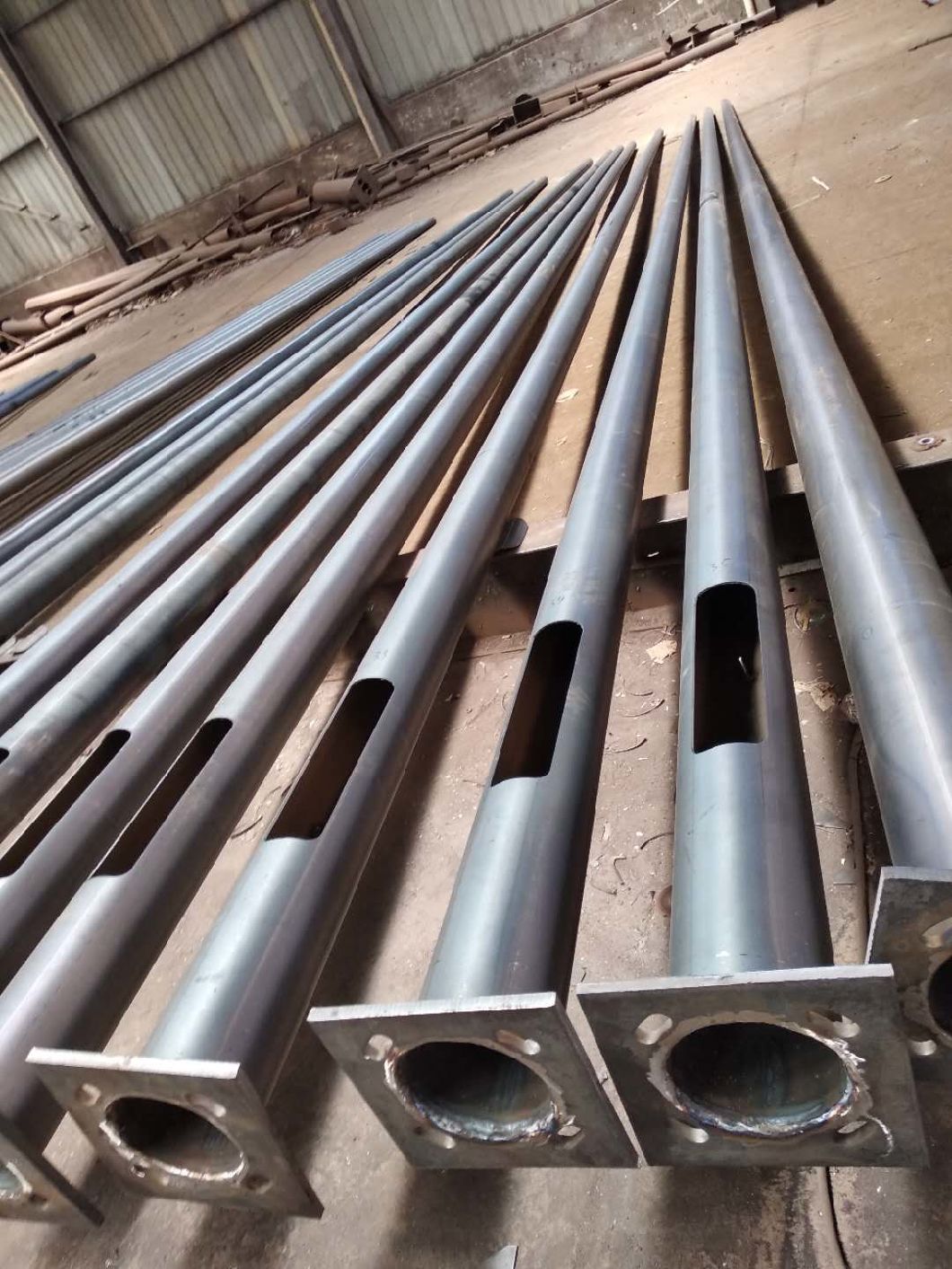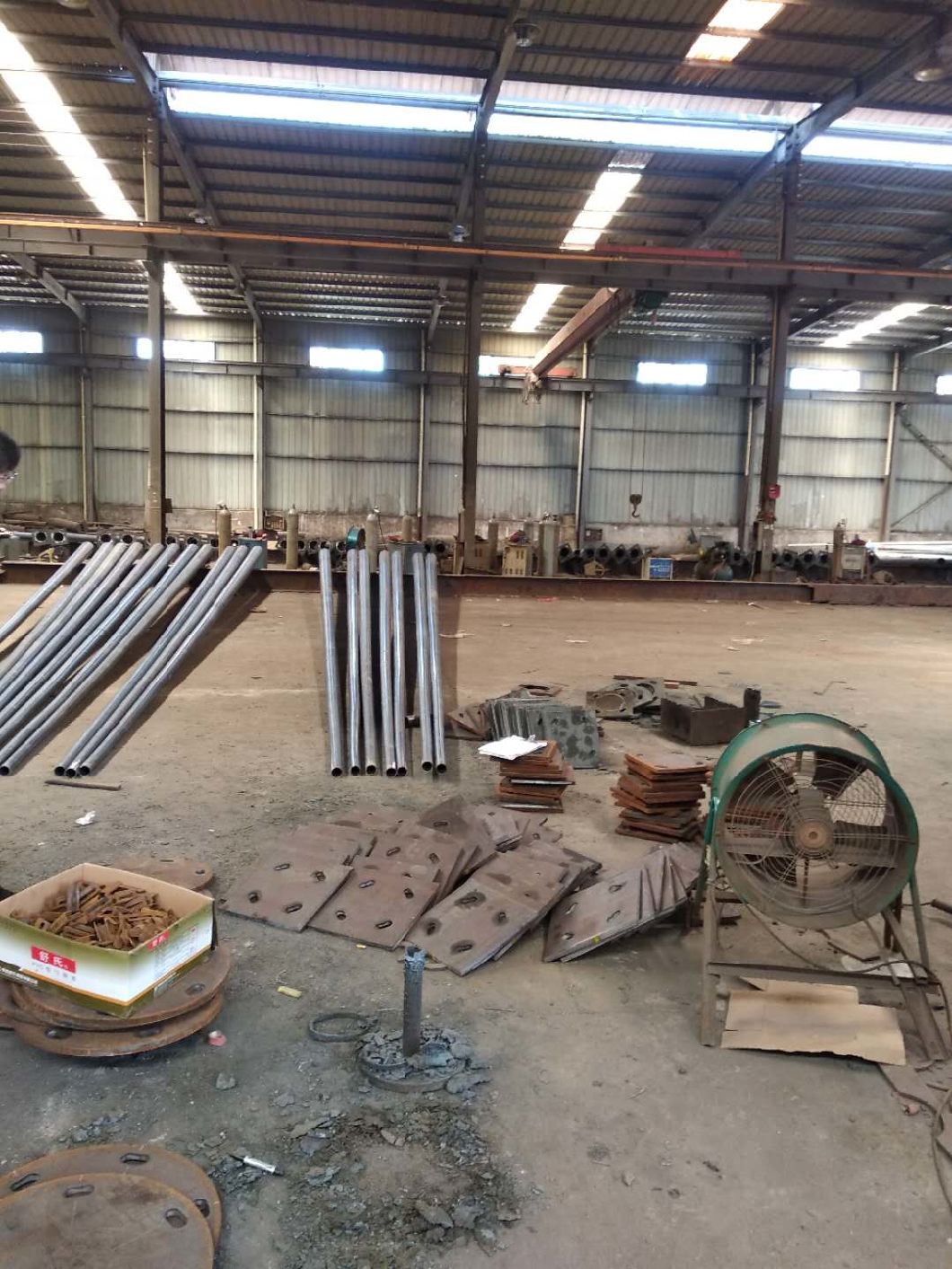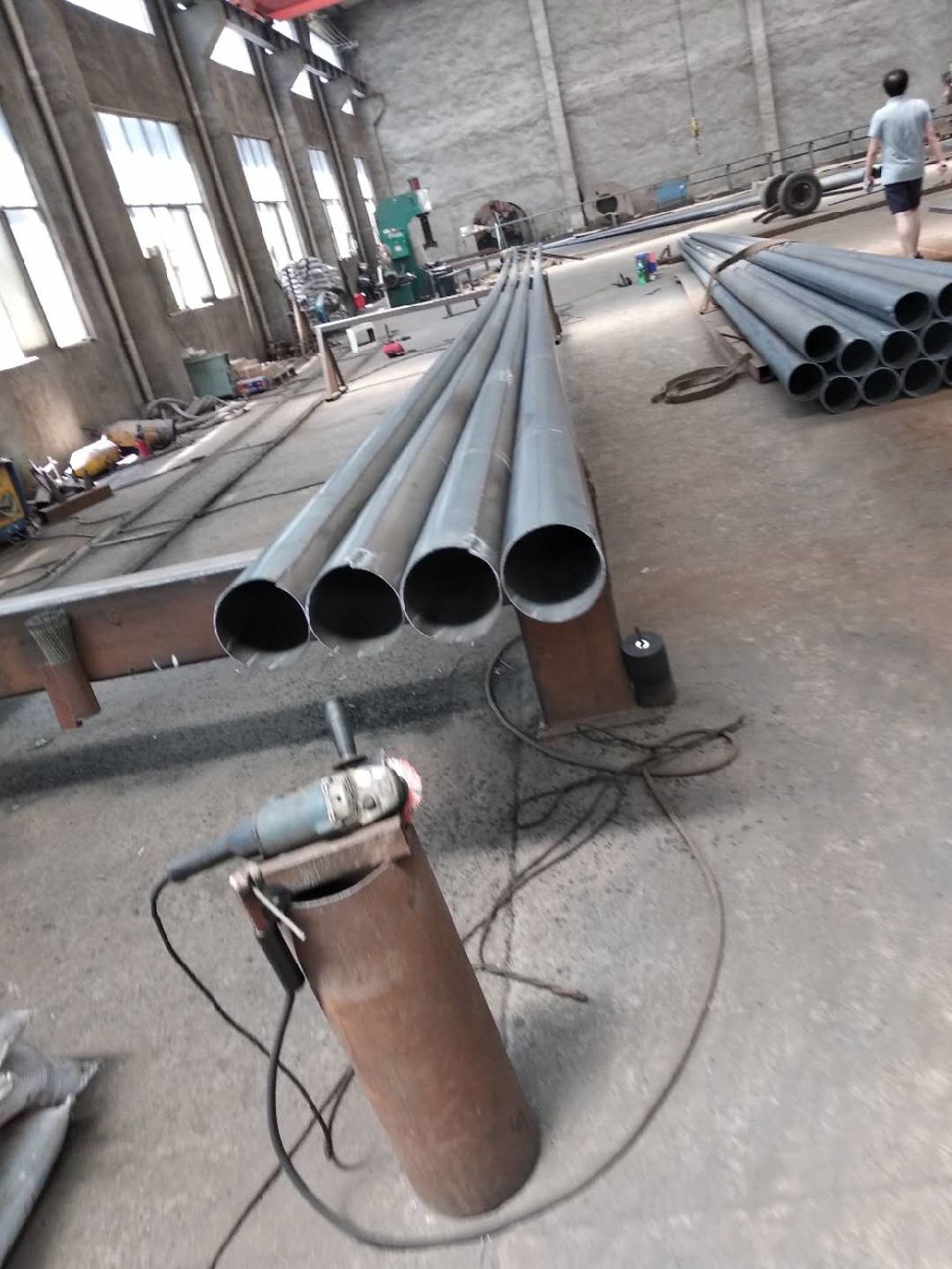 Street Light Poles
YLTSOLAR have a full set of equipment to produce various kinds of lighting poles, such as round lighting pole, square lighting pole, octagonal lighting pole, T-pole, L-pole and frame style signal lighting pole, traffic lighting pole and etc. even customized styles from our clients. With hot galvanization and other anti-rust techniques, our lighting poles have been widely applied in various countries around the world. 
| | |
| --- | --- |
| Material | High-quality steel Q235/SS400 from BAOSTEEL Group |
| Pole Height | 3M~12M |
| Top Diameter | 63MM~85MM |
| Bottom Diameter | 114MM~200MM |
| Thickness | 2.35MM~4.00MM |
| Flangsize | 240*240*12MM~350*350*16MM |
| Welding Technique | Automatic submerged arc welding |
| Surface Treatment | Hot dip galvanization and powder painting |
| Welding Standard | GB11345 Grade 2 |
| Thickness of Zinc Coating | ≥86um |
| Adhesive Force of Zinc Coating | GB2694-88 |
| Anti-wind Capacity | 36.9m/s |
| Anti-corrosion Lifetime | ≥20 years |
| Coating Layer | Adhesive force                      GB9286-880 |
| Hardness | ≥2H |
| Lighting Poles Options | High mast lighting pole, street lighting pole, garden light pole and solar street light pole, etc. |
Advantages
BAOSTEEL Q235 steel, high strength and great resilience
Great anti-corrosion performance
Dual protection treatments: hot galvanization first and then powder painting
Long life time: 25 years long life span
Dismountable arms and foundation kit: Only a screwdriver, requiring no welding
Multiple painting colors available: Default color Gray. Custom available
OEM available




For more info please contact us:
Phone: +86-18151439798
 
URL:www.yltsolar.com
ADDRESS:West Guoji Industrial Park,Yangzhou,Jiangsu,China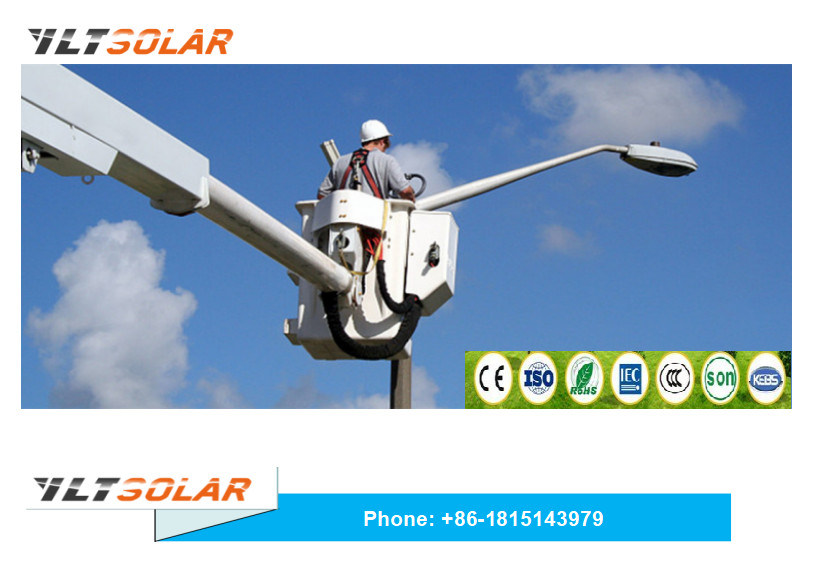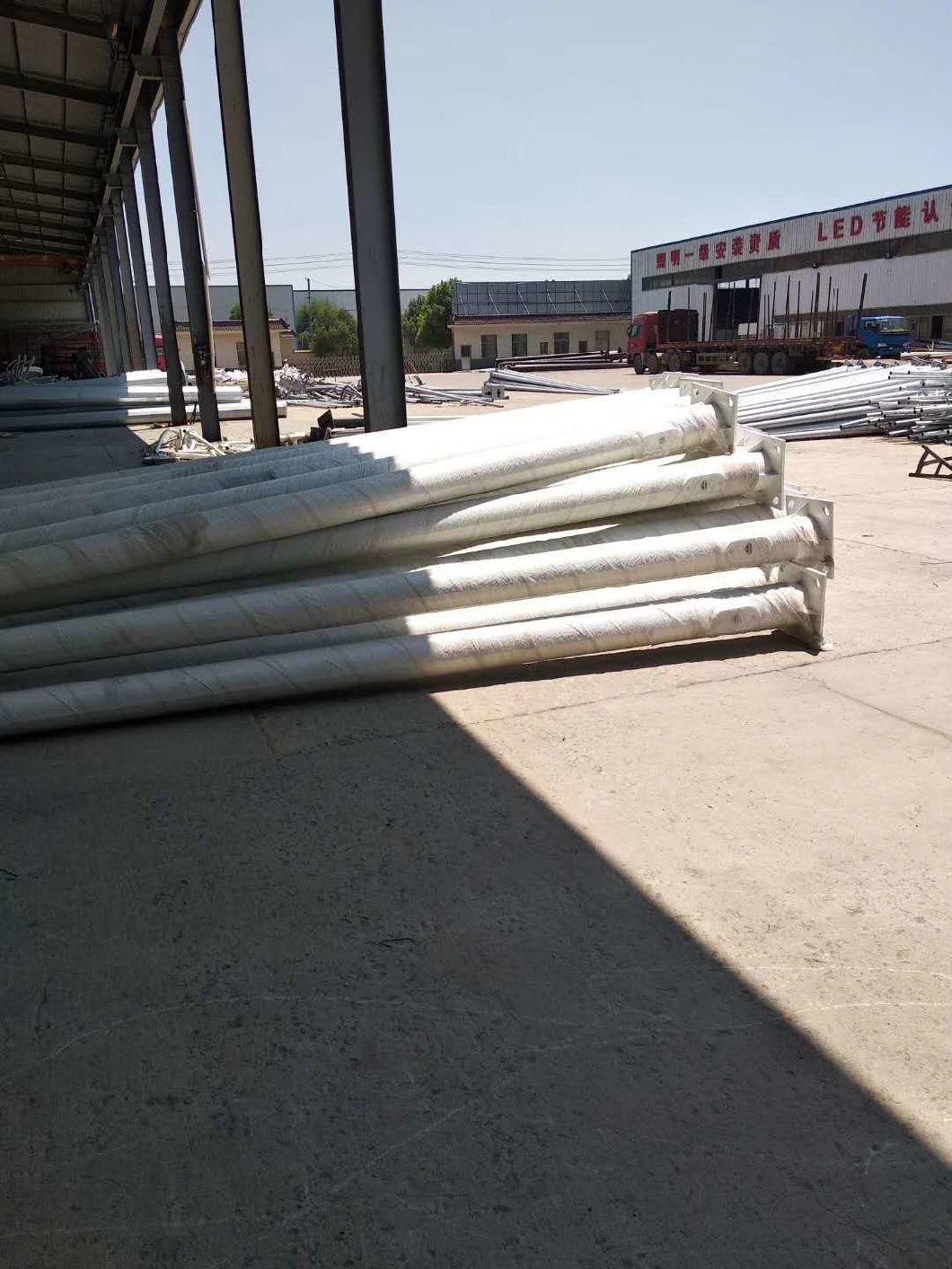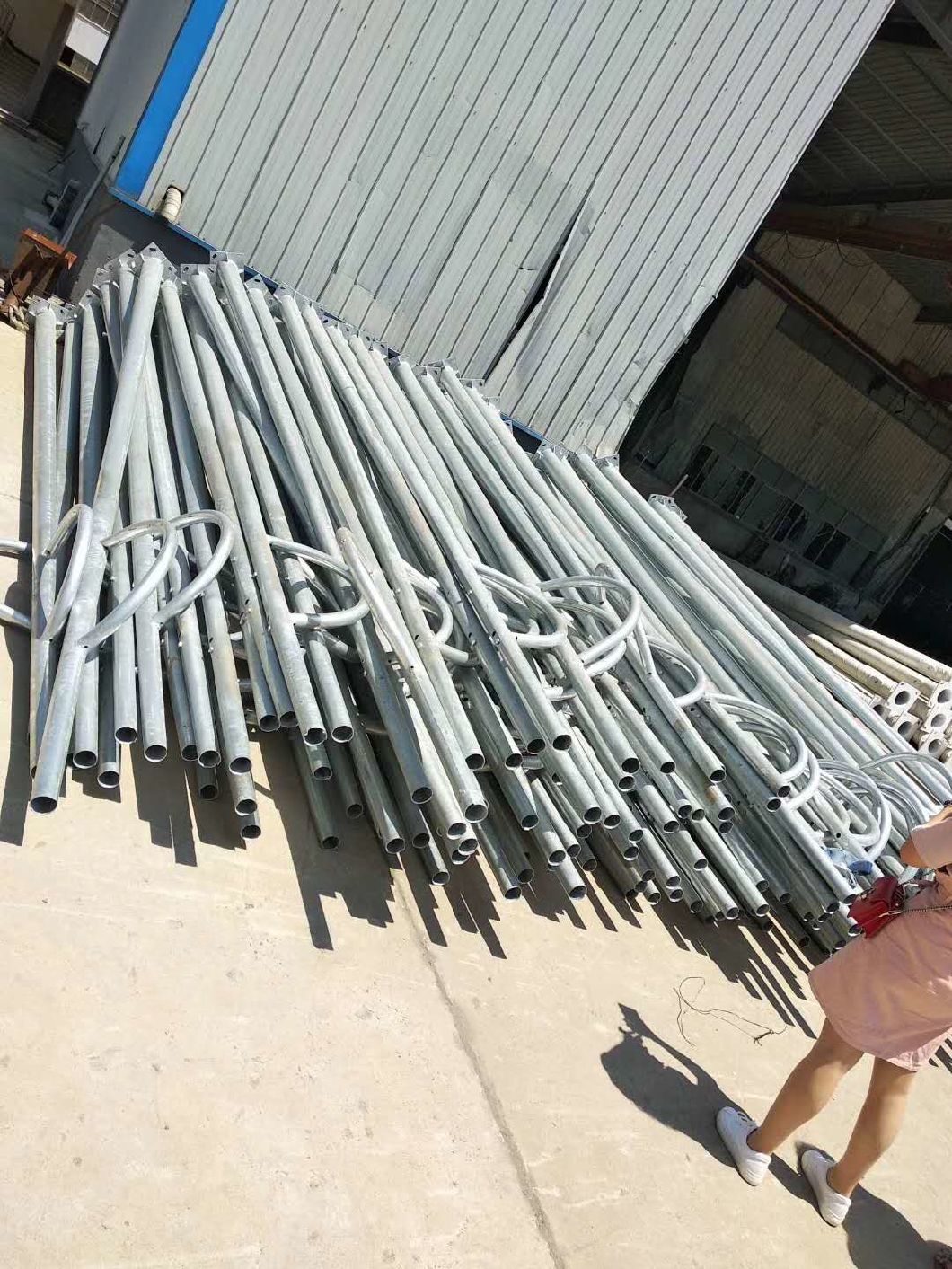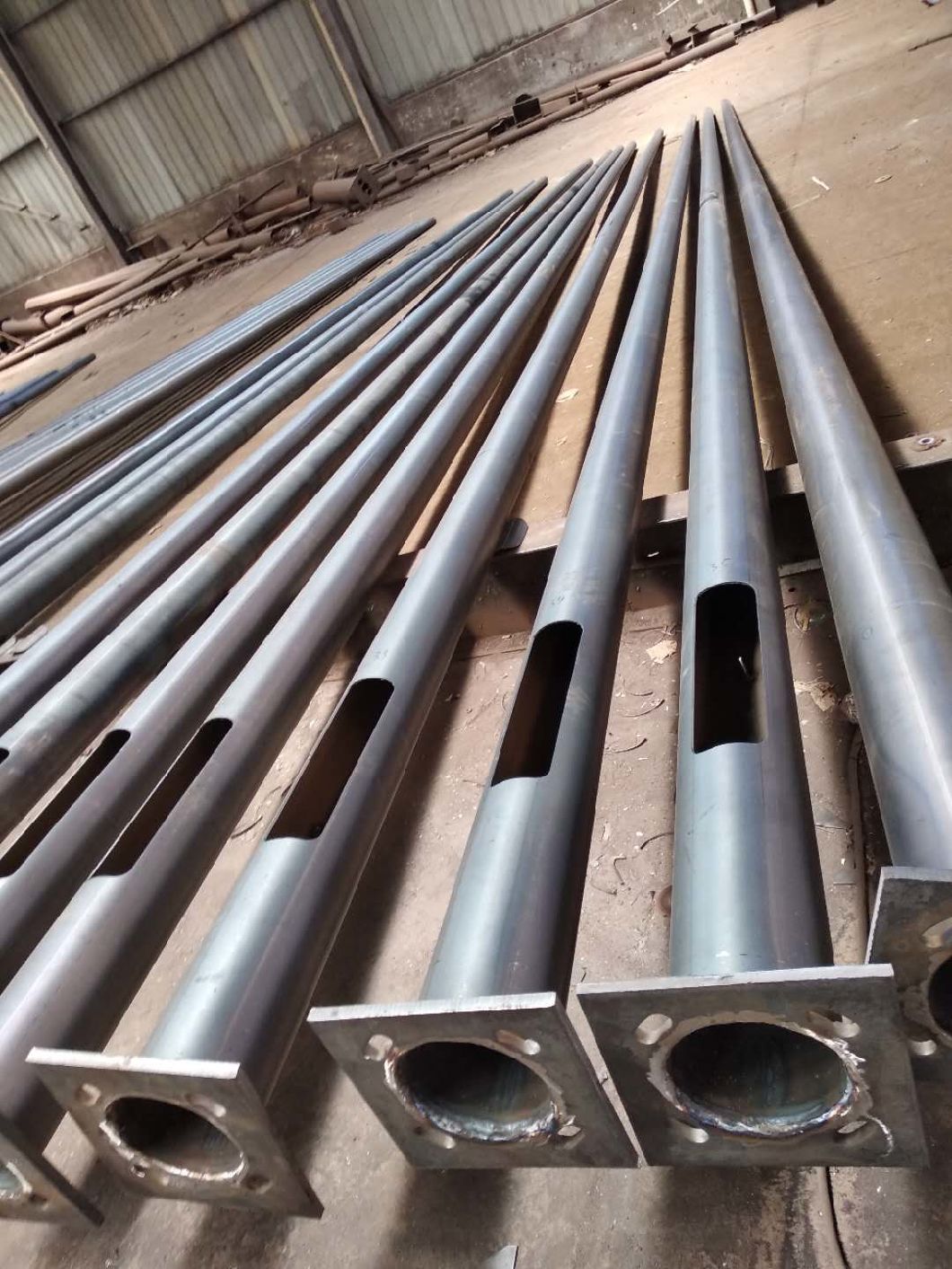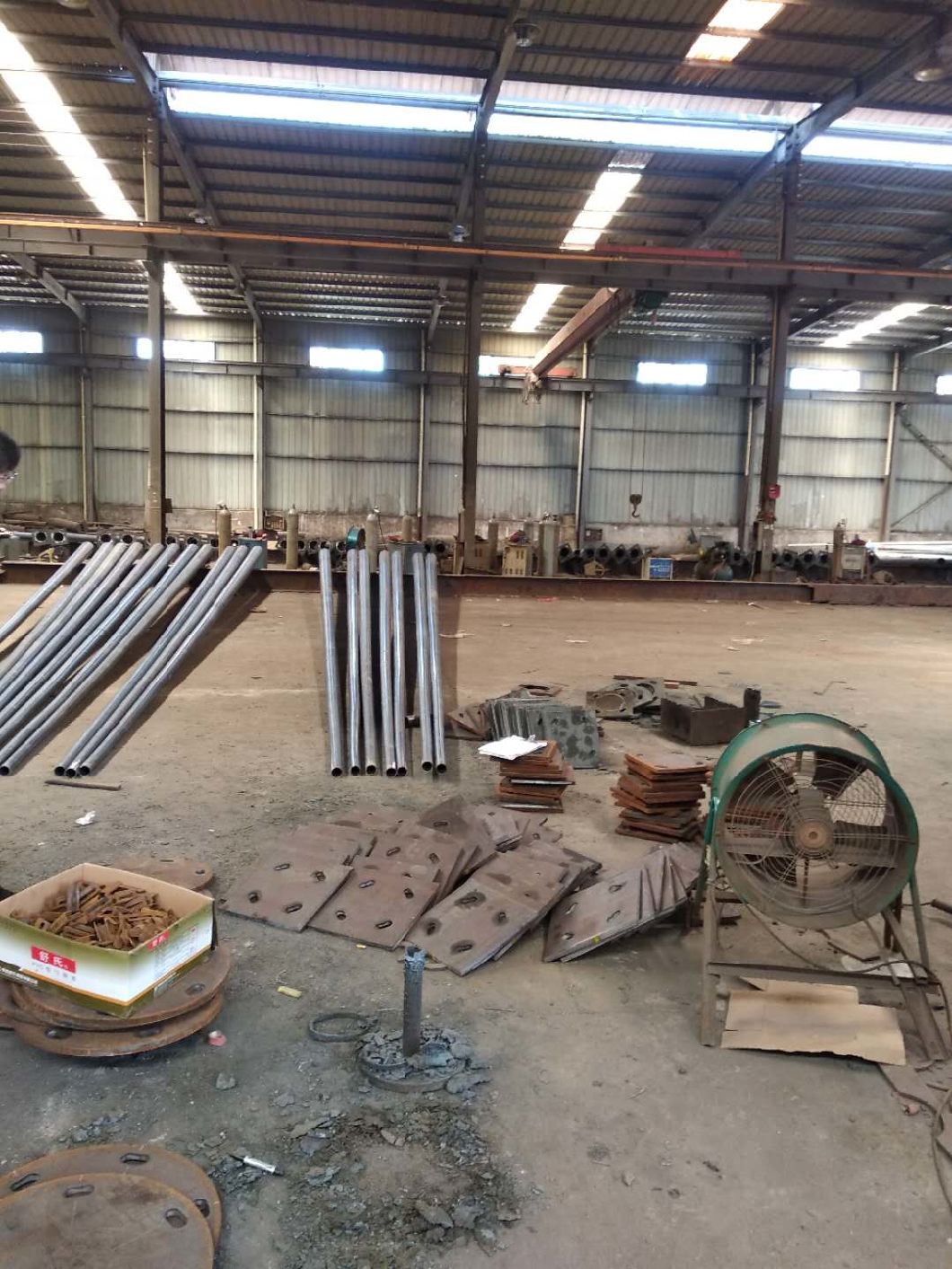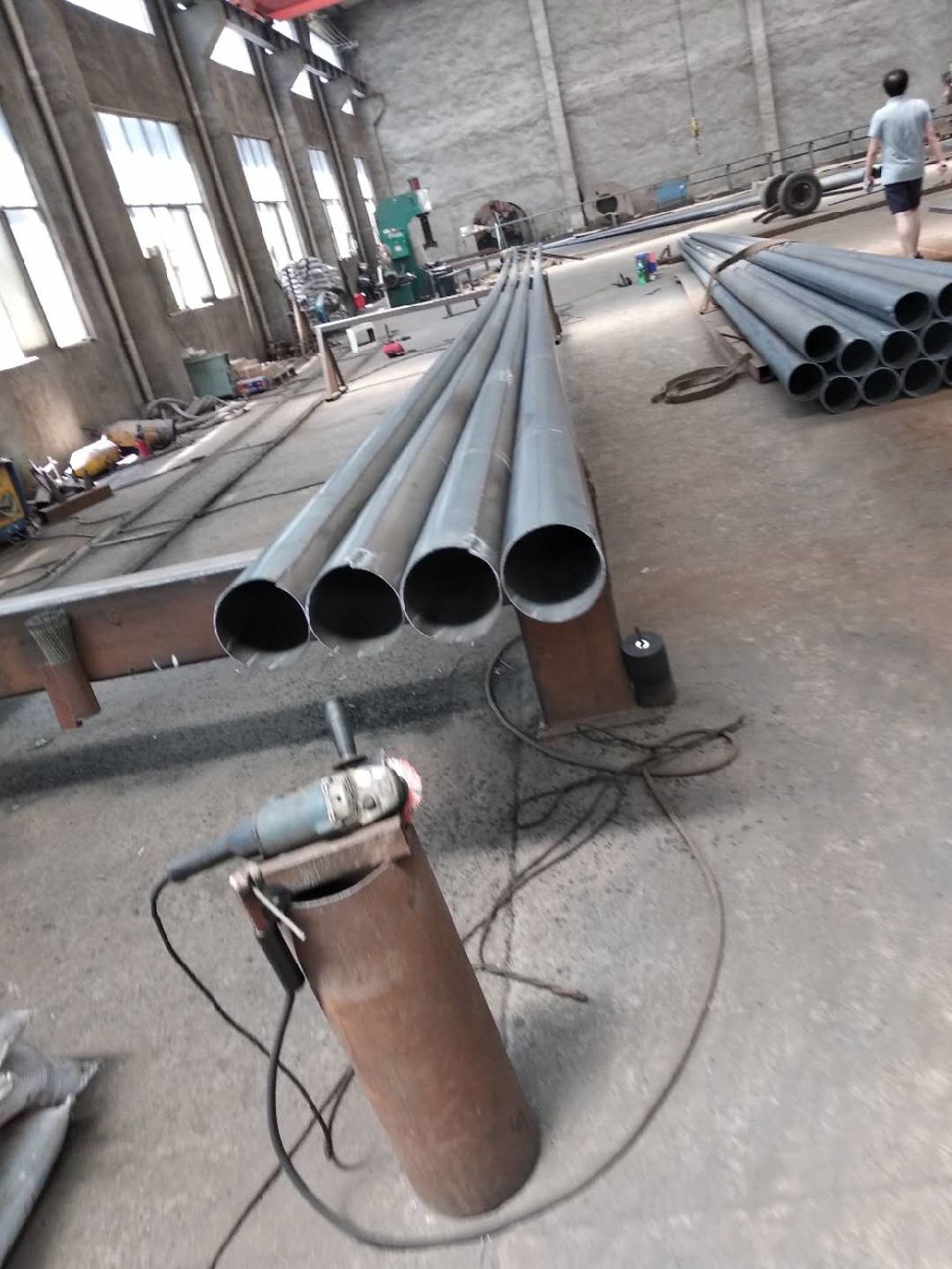 Street Light Poles
YLTSOLAR have a full set of equipment to produce various kinds of lighting poles, such as round lighting pole, square lighting pole, octagonal lighting pole, T-pole, L-pole and frame style signal lighting pole, traffic lighting pole and etc. even customized styles from our clients. With hot galvanization and other anti-rust techniques, our lighting poles have been widely applied in various countries around the world. 
| | |
| --- | --- |
| Material | High-quality steel Q235/SS400 from BAOSTEEL Group |
| Pole Height | 3M~12M |
| Top Diameter | 63MM~85MM |
| Bottom Diameter | 114MM~200MM |
| Thickness | 2.35MM~4.00MM |
| Flangsize | 240*240*12MM~350*350*16MM |
| Welding Technique | Automatic submerged arc welding |
| Surface Treatment | Hot dip galvanization and powder painting |
| Welding Standard | GB11345 Grade 2 |
| Thickness of Zinc Coating | ≥86um |
| Adhesive Force of Zinc Coating | GB2694-88 |
| Anti-wind Capacity | 36.9m/s |
| Anti-corrosion Lifetime | ≥20 years |
| Coating Layer | Adhesive force                      GB9286-880 |
| Hardness | ≥2H |
| Lighting Poles Options | High mast lighting pole, street lighting pole, garden light pole and solar street light pole, etc. |
Advantages
BAOSTEEL Q235 steel, high strength and great resilience
Great anti-corrosion performance
Dual protection treatments: hot galvanization first and then powder painting
Long life time: 25 years long life span
Dismountable arms and foundation kit: Only a screwdriver, requiring no welding
Multiple painting colors available: Default color Gray. Custom available
OEM available




For more info please contact us:
Phone: +86-18151439798
 
URL:www.yltsolar.com
ADDRESS:West Guoji Industrial Park,Yangzhou,Jiangsu,China
24 port PoE 10/100/1000M managed network switch/POE Switch/10/100/1000M 24 port POE
Managed POE Switch is designed for Video surveillance and network project system,etc.it provides 24x100Mbps Ethernet ports; 2x10/100/1000Mbps ports &2x1000 Base-X SFP optical fiber port as uplink ports; supports Web& CLI management,two layer network management and POE Intelligent management; supports data wire-speed and Jumbo Frame forwarding .Port based VLAN function can effectively prevent whole system from broadcast storm so that make the date transfer safer.The 16*10/100Mbps POE Switches complies with IEEE802.3 af/at standards,it simplifies wiring,avoids the troublesome of installing power socket for powered devices,such as
Features:
Provide 24x 100Mbps ports; 2x10/100/1000 Mbps port & 2x1000 Base-X SF Poptical fiber port as uplink ports

Support End-Span method,complies with IEEE802.3 af/at standards,flexibly configures power for each port.

Support L2 switching function,including 802.1QVLAN,port mirroring, port isolation,IGMP Snooping function.

LLDP,POE+Management and ARP detection.

Support WEB,CLI,TELNET&SNMP management

Support 10K Jambo Frames

Support STP(802.1D) and RSTP(802.1W)

Support IEEE802.3x full-duplex flow control,support Auto MDI/MDIX

Restart funtion helps master IC reset wholly,Easy for users to solve network failure

Without swapping power supply,easy to maintain system,help monitoring pictures ,recover quickly.

Excellent lighting protection,lightning capacity up to 2KV.
Application:
Security Monitoring system

Multimedia Network Teaching System

Medical Monitoring Display System

Industrial Automation Control System

Banking ,securities,financial information display system

Remote Network Server Monitoring

Department Store Security

Casino Security

Hospitals,Airports and banks

School Campuses
Gigabit Standard Managed POE Switch
Gigabit Standard Managed Poe Switch,8 Port Poe Switch,250M Poe Transmission,Giga Managed Power
Dongguan Xiaoerduo Electronics Co., Ltd. , http://www.steadysmps.com